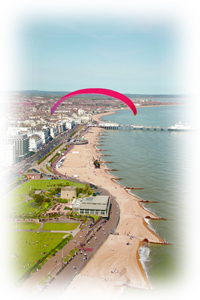 Paramotoring or Powered Paragliding (PPG) is one of the most exhilarating forms of Ultra Light Airsports existing today.

The first Paramotors were developed in the mid-80's, but these very basic, noisy machines have progressed amazingly into the lightweight, high performance machines of today.

A Paramotor is basically a sturdy chassis with a small capacity 2 or 4 stroke engine mounted to it, driving a propeller that is shrouded by a strung cagework with a harness attached. The Paramotor is strapped to your back and with the use of a Wing (paraglider) you have one of the easiest and lowest cost methods of powered flight available.
As the units are foot-launched, they can be flown from any site with reasonable free space, with no hills, thermals or wind required for launching or landing.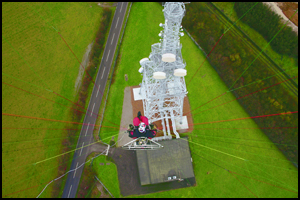 This is a truly unique experience and to feel the 'buzz' of open air flying is simply breathtaking. Most Paramotors are designed to easily breakdown into 2 or 4 sections, which means effortless transportation of the whole unit in the back of the average hatchback car. Paramotors are fair weather machines and once strapped in, with the engine running and the Wing inflated above you, only a few steps are required to leave the ground for the one of the most exciting rides of your life! The only limitation to duration of flight is your fuel load and engines can be stopped and re-started mid-flight and are usually stopped for landing.
Thousands of Paramotors are in use worldwide and their easy transportability, low maintenance and launching flexibility are destined to make them the first choice for novice or experienced aviators alike.