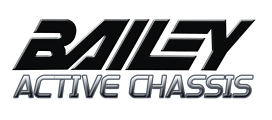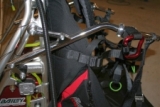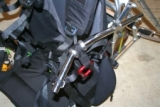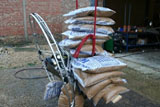 Please click on the images to enlarge
Bailey Active Chassis
The new Bailey Aviation active chassis first shown at the Sports and Leisure Aviation Show at the Birmingham NEC in December 2008
has now passed the load testing and is available as an option on all new aluminium machines, the titanium version will be available soon.
The Bailey Aviation Active Chassis uses an ingenious linkage arrangement manufactured from stainless steel to allow movable hang points while keeping the thrust angle constant, allowing a much improved degree of weight-shift to allow pilots to accomplish tighter turns whilst retaining correct flight geometry throughout its movement.
The Active Chassis has been through a major testing programme and with input from many of the UK's leading pilots, will prove to be popular with competition pilots.
The Active Chassis is available as an additional cost option on all alloy 1.10m and 1.30m type paramotors. Due to the complexity of the new Active Chassis, 'Mid' and 'Low' hang point machines cannot be converted.